Fighting senior malnutrition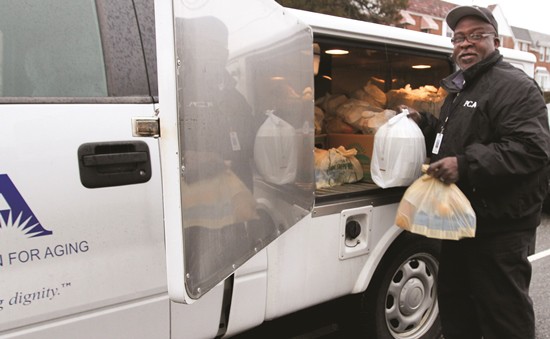 By Alicia M. Colombo
Philadelphia Corporation for Aging (PCA) recently joined the Defeat Malnutrition Today Coalition, a national group of more than 65 organizations and other stakeholders working to defeat malnutrition in older adults. Specifically, the coalition seeks to garner wider recognition of malnutrition as a key indicator and vital sign of older adult health risk and to work to intervene before malnutrition becomes detrimental to seniors' health.
"Solving senior malnutrition means strengthening federal and local programs that already exist," said Louis Colbert, PCA's vice president of operations. "These meal programs can be used to help the elderly remain in the community and out of the hospital."
PCA has two meal programs that serve thousands of seniors each year: congregate meals at senior centers and  home-delivered meals.  "Seniors who are eating these meals are getting a balance of nutrients that will fuel their body and promote health," said Amy Goldstein, PCA nutrition manager. "In Philadelphia, it can be hard for members of the community to easily access and prepare meals that are both affordable and nutritious. Through these programs, seniors can access these meals on a consistent basis. Meals are approved by a dietitian to assure their nutritional needs are met."
Neighborhood lunch spots
The 28 PCA funded senior community centers and satellite meal sites located throughout the city provide a healthy lunch in addition to activities and socialization. Two thousand Philadelphia seniors enjoy a tasty, nutritious meal each weekday at a senior center or satellite meal site, for a total of more than 450,000 meals each year.
Meals include an entrée, side dishes, milk, and fruits and/or vegetables, and provide one-third of the Recommended Dietary Allowance of vitamins and minerals to help meet the Dietary Guidelines for Americans. They are appropriate for seniors with a variety of health conditions, such as diabetes and high blood pressure.
Judy Kindon, a  member of Journey's Way senior center in the Roxborough neighborhood, concentrates on the center meals as a starting point for her daily nutrition. "If not for the center meals, I'd eat a lot of sandwiches and I'd probably eat canned soup, which has a lot of sodium," she said. "I definitely eat much better now that I have this nutritious meal each day to count on."
Senior center meals are free to seniors 60 or older and to younger seniors with a spouse who is 60-plus. There is a suggested donation for these meals. Anyone 59 or younger may purchase meals at a center. For a list of senior centers in your neighborhood, go to pcaCares.org/services-for-seniors/senior-centers or call the PCA Helpline at 215-765-9040.
Meals delivered to you
Seniors who cannot attend a senior center and are unable to shop or cook for themselves can receive delicious, healthy meals delivered right to their home. PCA's home-delivered meal program serves 4,600 seniors each year. One home-delivered meals recipient who is unable to prepare meals for herself described how vital the program is to her: "I just put a meal in my microwave each day and eat. I would definitely recommend this program to others. I would tell them I have found it to be important to my quality of life – very, very, very important."
Older adults can receive meals through the home-delivered meal program on an ongoing basis or through PCA's In-Home Support Program to provide for a temporary period of incapacity. Home-delivered meals are nutritionally balanced to support older adults with a variety of health conditions, including heart disease, diabetes and obesity. Kosher options are available. All meals include an entrée, side dishes that include fruit and/or vegetables, and milk.
To find out if you or an older adult in your life qualify to receive home-delivered meals from PCA, contact PCA's Helpline at 215-765-9040 or the PCA In-Home Support Program provider in your area of the city: KleinLife (Northeast), Center in the Park (Northwest), North City Congress (North/Central), Lutheran Children and Family Services at West Philadelphia Senior Community Center and Catholic Health Care Services at St. Charles Senior Community Center (South).
Produce direct from the farmer
During the summer, PCA distributes Senior Farmers' Market Nutrition Program vouchers to more than 36,000 income-eligible older Philadelphians through its network of senior centers and its community outreach program. These vouchers allow each recipient to access $20 worth of the freshest fruits and vegetables, direct from Pennsylvania farmers' market stands.
"This program gives our seniors the opportunity to take advantage of the produce they wouldn't usually have available to them in their neighborhoods." Goldstein said. "Adding extra fresh fruits and vegetables to your plate is a great way to promote health and well-being,"
Distribution of these vouchers begins in June each year and continues through September, or while supplies last. To be eligible, seniors must be 60 or older by the end of the year, live in Philadelphia, and meet income guidelines. PCA will provide information about the 2018 produce voucher program in June.