PCA President/CEO Holly Lange receives Patriot Award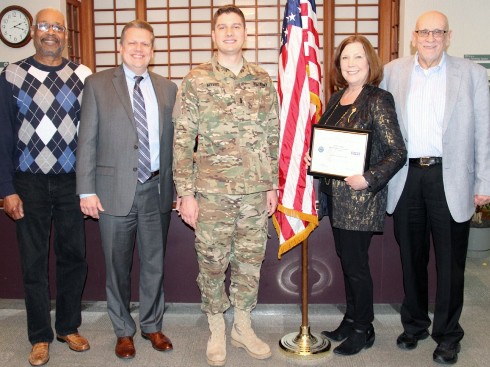 The U.S. Department of Defense recently recognized Holly Lange, president/CEO of Philadelphia Corporation for Aging (PCA), with a Patriot Award. Lange was recognized for PCA policies that support agency employees in the National Guard and Armed Forces Reserve when they require special work schedule allowances because of military duty. The award presentation was made at PCA.
Colin Myers, an investigator with PCA's Older Adult Protective Services and a first lieutenant in the Army National Guard, previously submitted the award nomination. "Holly and PCA are especially deserving of the Patriot Award," he said. "PCA and its staff have been supportive of my National Guard service, recognizing me as a special asset because I am in the Army National Guard. I have been able to have a flexible working schedule when I am called for duty, which sometimes is on very short notice. Initially, when I signed up for the Army National Guard, I was committing to one weekend a month and two weeks in the summer. However, the commitment has extended beyond that.
"Being a member of the National Guard means having two different careers, and many National Guard soldiers have difficulty balancing both obligations," Myers said. "For me, however, working at PCA has been a completely opposite experience, a very positive one. I have been able to enjoy both careers as a direct result of Holly's support and the policies she has set forth in support of my service. I am proud to be a member of the Army National Guard, and I am also proud to be a part of the PCA family."
Noting the agency's appreciation, Lange said: "We're very proud of Lt. Myers and thank him for nominating us for this honor."
CAPTION: Pictured at the Patriot Award presentation (from left) are Albert Newman, south east area chair of the Pennsylvania Committee for Employer Support of the Guard and Reserve and Army master sergeant, retired; Mark Myers, PCA Housing Department director and father of Colin Myers; Colin Myers, PCA Older Adult Protective Services (OAPS) investigator and Army National Guard first lieutenant; Holly Lange; PCA president and CEO; and Joseph Snyder, OAPS director.