PCA prepares for service coordination under managed care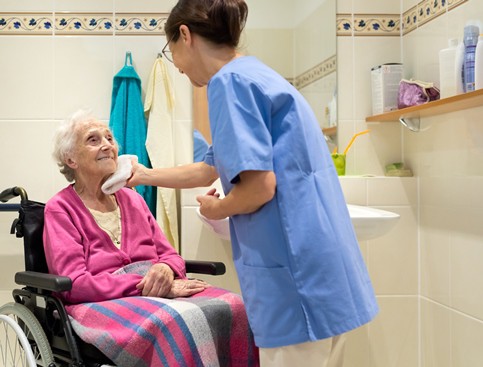 Philadelphia Corporation for Aging has been collaborating with AmeriHealth Caritas for about two years on an innovative service coordination project, in preparation for the state-mandated switch to Community HealthChoices (CHC) a new system of service delivery for Aging Waiver participants. The collaboration is designed to explore how service coordination could work when CHC is implemented in Southeast Pennsylvania in July, 2018. At that time, the coordination of both physical health care and long-term services and supports (LTSS) for adults who need Medicaid LTSS and for dual eligibles — those who are eligible for both Medicare and Medicaid – will be the responsibility of three managed care organizations (MCOs) which have been chosen by the state.
This represents a change in the organization of service delivery for home and community-based services, in that MCOs will manage all services. The MCOs will have overall responsibility for coordinating both health care and LTSS. PCA is actively engaged in discussions with the MCOs about providing service coordination for LTSS.
"We are talking with all of the MCOs about the new process, and have received very positive feedback from them," said PCA President and CEO Holly Lange. "There really is no other provider that can compare to the expertise and experience we have, both in longevity and in numbers of individuals served," she said. PCA was the first Area Agency on Aging to adopt the Aging Waiver program in Pennsylvania, and currently provides service coordination for more than 11,000 individuals, by far the greatest number of any service coordination entity in the state.
The program is being phased in throughout the state and is scheduled to begin in Philadelphia and the rest of the Southeast Region in July 2018.
Through the project, individuals receiving home and community-based services through PCA under the Aging Waiver program and are members of AmeriHealth are assigned two service coordinators: one from PCA, who manages LTSS services that enable the person to remain in the home; and one from AmeriHealth Caritas, who addresses the person's physical health. The teams work collaboratively to develop comprehensive plans.
"They've been impressed and appreciate the Service Coordinators' knowledge of their participants and the range of services and resources," said Ann Danish, PCA director of care management, about AmeriHealth's response to the project. "One of their staff went out on a home visit with our service coordinator, to see how we work." Two PCA service coordinators and one supervisor are assigned to the project. The team meets monthly to go over the cases to ensure that needs are being met, to avoid duplication, and to resolve problems.
AmeriHealth Caritas; Pennsylvania Health & Wellness (a subsidiary of Centene Corporation); and UPMC For You are the managed care organizations (MCOs) selected by the Pennsylvania Department of Human Services as providers through Pennsylvania's new Community HealthChoices (CHC) initiative.