New frontiers: PCA staff reaches out to immigrant elder populations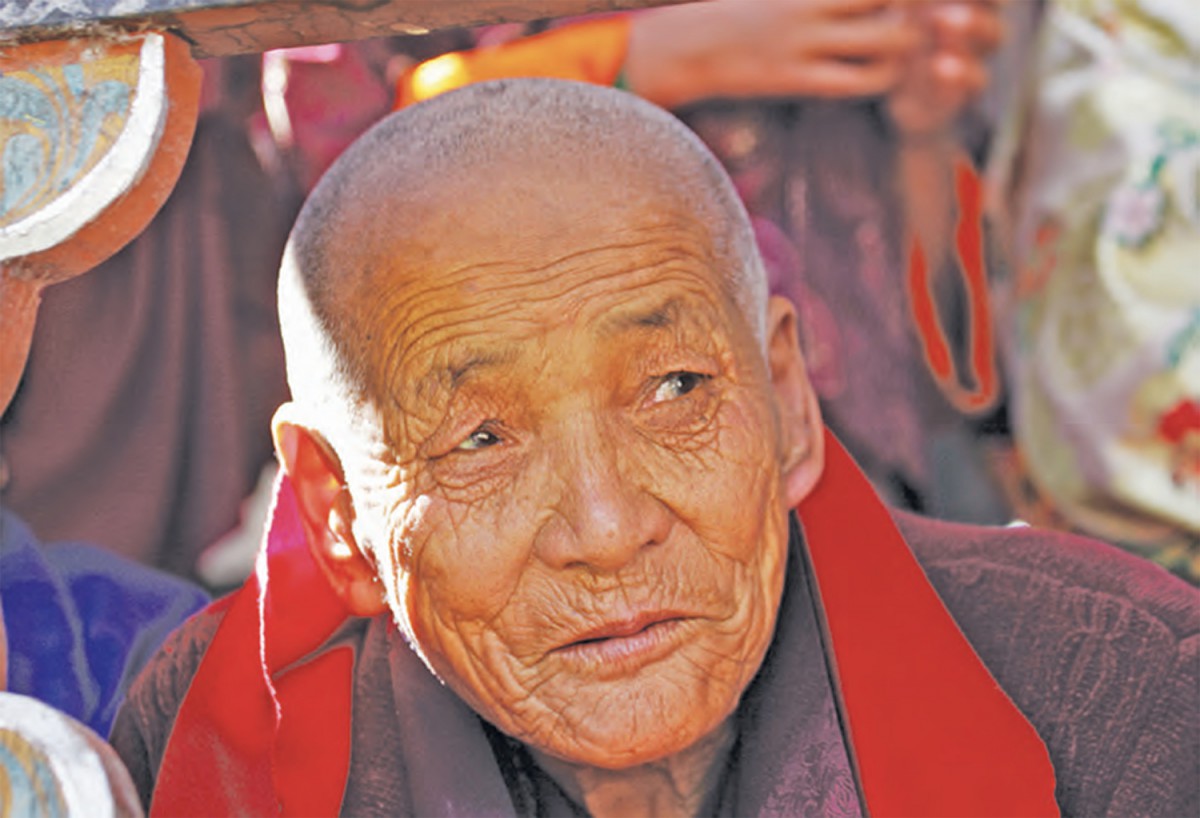 There are nearly 41,000 foreign-born older Philadelphians, according to the American Community Survey. Compris­ing 15 percent of Philadelphians 60-plus, they often settle in insular communities of fellow immigrants. Isolated, facing language barriers, and often suspicious of institutions and government due to trauma suffered in their native lands, they can find it difficult to overcome obstacles to get the help they need. This help can be all the more vital as they become frail. Many cannot count on their chil­dren to care for them in their old age, as was traditional where they came from.
As part of Philadelphia Corporation for Aging's (PCA's) efforts to connect with un­derserved minority elders, Sung Young Yun of PCA's Community Relations Department reached out to Leela Kuikel, who heads the Bhutanese American Organization (BAO) – Philadelphia. The organi­zation represents a new local com­munity of refugees: ethnic Nepalese from the Himalayan nation of Bhutan who faced persecution and mass expulsion in their homeland. The city's Bhutanese com­munity, though tiny, represents one of the newest frontiers for Community Relations as it builds bridges to help immigrant elders ac­cess aging services and supports.
A team effort
Yun, PCA's Asian outreach coordinator, met Kuikel years ago during one of the many Asian-American networking events she at­tends to strengthen PCA's connections to Philadelphia's immigrant communities. Sub­sequently, she worked with him to organize a "lunch-and-learn," sponsored by PCA, to ac­quaint Bhutanese seniors with aging services and other community supports available to them. That collaboration proved essential. Kuikel helped identify a site that would ap­peal to attendees, a South Philadelphia res­taurant popular with Bhutanese refugees, most of whom have settled in that area. In addition, he helped to translate the presenta­tions into a Nepali language. He also joined PCA's Asian Advisory Committee, made up of community leaders who support Community Relations' efforts to develop ties and share in­formation.
Philadelphia's Asian community is highly diverse, comprising settled groups like Koreans, Chinese, Vietnamese, Cambodians, Laotians and Filipinos, as well as newer arriv­als like the Bhutanese. Also among the more recent immigrants are Chinese people from the Fujin province, whose members speak a different dialect from the usual Mandarin or Cantonese, and a surge of Southeast Asian In­dians, including Hindu and Christian groups, who have varying customs and languages.
The Albanian immigrant community is well-established in Philadelphia, with many settling in the city after World War II and during the 1990s. But it also constitutes a new frontier for the department, says Wanda Mitchell, PCA's director of community rela­tions. The staff began reaching out to the Al­banian community after realizing that many of that group's elders have not assimilated and are unable to access the programs and services that would benefit them.
Besides working with Asian groups, Yun also helps Community Relations connect with other ethnic communities. She is work­ing to identify trusted individuals within the local Albanian population to partner with PCA for outreach and information-sharing and to identify Albanian elders in need of assistance. Once those ties are established, one of the first steps will likely be a lunch-and-learn, she says. The department is also exploring having PCA materials translated into Albanian.
Such outreach efforts are labor-intensive because they need to be customized for each group, Mitchell says. Relationships need to be established and cultivated, translators for languages and dialects have to be found for events and presentations, informational ma­terials have to be translated, feedback from each community must be solicited to ensure that PCA's efforts are effective, and outreach must be ongoing to maintain awareness and connection.
People born in African and Caribbean nations are among the city's fastest-growing immigrant populations. PCA Service Coor­dinator Supervisor Kia Gaymon works with Community Relations to connect with these groups. She serves as PCA's representative on the Mayor's Commission on African and Caribbean Immigrant Affairs and, along with PCA Interfaith Outreach Coordinator Sandy Lawrence, often represents the agency at events in the African and Caribbean communities. Community Relations also helped PCA create a working group of leaders and stakeholders from these communities to share information and ideas for serving el­ders.
Lawrence coordinates the meetings for this effort, called the African and Caribbean El­ders Initiative.
Keeping the faith
One of PCA's most effective modes of out­reach to immigrant groups like those from Africa and the Caribbean happens through alliances with faith institutions. Community Relations' Lawrence collaborates with houses of worship and faith leaders from varying de­nominations to disseminate information to immigrant and other minority elders to help them age well.
Many Philadelphia immigrants find their second home at their churches, mosques and other faith institutions. "Houses of worship embody faith for living and healing and are a very strong part of immigrant traditions," Lawrence says. "They are safe havens where everybody is welcome. People come not only to worship but for socializing and fellowship. They feel secure there."
Often gravitating to nearby houses of wor­ship that their fellow immigrants also attend, these elders enjoy connecting with those who share their language and culture. Their faith institutions offer one of the most effective ways to reach them. It is not only recent im­migrants but also more established popula­tions who remain in need of PCA outreach, Lawrence says: "Many of the elders stay at home taking care of their grandchildren while their children are off working. They are extremely isolated and have not surmounted cultural and language barriers. They're not confident … catching a bus to go somewhere, or they may not have applied for SEPTA se­nior ID or Shared Ride due to language or documentation challenges. But they will ride in the church van or go with their families to worship."
Through PCA's Clergy-Aging Interfaith Coalition, which Lawrence coordinates, "We reach out to congregations," she says. "We build close relationships with faith institu­tions and explore better ways of meeting the needs of Philadelphia's often invisible el­ders." Health and wellness are a major focus. Lawrence sends a biannual newsletter to faith leaders featuring updates and information on aging and critical programs for seniors. PCA also sponsors a biannual Clergy & Seniors Day, organized by the agency's Clergy-Aging Interfaith Coalition, at which attendees learn about aging resources and hear from experts on aging issues.
Through all PCA's collaboration and out­reach efforts, immigrant elders "are discov­ering us, and we're discovering them," Law­rence says. "It's all grassroots. We go out to where they are, and it's opened many doors."
PCA's Community Relations Depart­ment responds to requests for partici­pation in community health fairs and other events, including many held in ethnic and minority communities and faith institutions. To request PCA participation in your event, contact Wanda Mitchell at 216-765-9000, ext. 5340, or wmitchell@pcaphl.org; or Kim Lawrence, community relations supervisor, at ext. 5345 or klawrence@pcaphl.org.
PCA's language services for seniors
Philadelphia Corporation for Aging (PCA) offers language interpretation and transla­tion services at no cost to non-English-speaking seniors in Philadelphia. For more infor­mation about PCA's outreach to immigrant communities.
The PCA Helpline at 215-765-9040 offers English and Spanish options. PCA also con­tracts with an on-call language interpretation service that enables communication in more than 140 languages. The agency maintains telephone lines in: Chinese: 215-399-4944; Hindi: 215-399-4943; Khmer: 215-399-4940; Korean: 215-399-4941; and Vietnam­ese: 215-399-4942.
PCA's website, pcaCares.org, offers automatic translation into 17 languages: Arabic, Chinese (Cantonese and Mandarin), Dutch, French, Greek, Hindi, Italian, Japanese, Ko­rean, Polish, Portuguese, Russian, Spanish and Swedish. To translate text, click on the down arrow next to "English" that appears at the top of every page. A drop-down menu with the languages will appear. Click on the desired language and all website text will then be translated.