Navigating without sight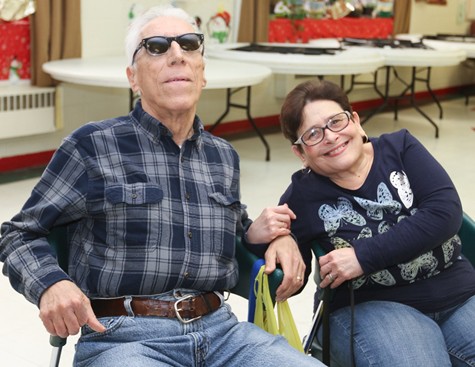 South Philadelphia native John Martino, 75, lost his sight at just 24 when his retinas suddenly detached. Emergency surgery was only able to restore partial sight to his right eye. Two years later, he was completely blind. "It took me a while to get acclimated," Martino says. "It certainly didn't happen overnight." To help him adjust, he underwent six months of intensive vision rehabilitation therapy. During that time, he learned how to use a guide cane to help him navigate and received career counseling.
Prior to losing his sight, Martino worked in a tailor shop making men's suits. "My state case worker suggested two types of work: serving food in a cafeteria and massage therapy," he says. "I wanted to get into something where I could still use my hands, so I decided to study massage."
Undaunted, he went on to become certified in massage therapy and has embraced his craft, dedicating himself to serving his clients. "With massage, I learned that you either like it or you don't," he says. "Some people can't get a traditional massage. A massage doesn't necessarily have to be done with the person lying on a table. You can do it while the client is sitting in a chair – whatever is most comfortable for the person."
Throughout his life, Martino has made an effort to remain social and connected to his community. In 1979, he became active in a blind support group at Winnet South Philadelphia Community Center. "I learned to do what I needed to do to survive," he says. "I had two offers to get married from two blind women, but I turned them down. In order to continue doing what I was used to doing on my own, I knew I needed to be with a sighted woman. If I want to take a walk outside, besides just going around the neighborhood, I knew I would need a companion."
One day his father suggested that he attend the Saturday night dance held at the Guerin Recreation Center. As fate would have it, fellow lifelong South Philadelphia resident Carmella Postiglione also attended the very same dance, at the urging of her mother. The two met and had an instant connection.
"Before I got involved with Carmella, I asked her if she wanted kids," Martino says. "When she said, 'Yes,' I told her, 'There's the door.' I felt I owed it to her to be honest. It wasn't right for me [to have kids]. I wouldn't have been able to see my children."
Carmella decided that her love for him was all that mattered. "He knew what he wanted, and I knew he needed help," Carmella [now Martino] says. They got engaged on Christmas Eve in 1979 after a year of dating.  The couple has enjoyed the comfort and support of navigating life's challenges together during their marriage of 37 years.
"I don't like to use the word 'caregiver,'" says Martino. "I just got married to my wife." Carmella, 68, agrees they are companions, rather than caretaker and care receiver. "I help him if he needs to separate money or match clothes," she says. "But he's very independent. He cooks and even made stuffed shells, and even my Italian mother was amazed at how good it tasted."
The couple has remained connected to their community through regular participation in senior community center activities. John joined the Marconi Older Adult Program at 15th and Porter streets when he was in his mid-50s. Carmella was allowed to join, even though she was only in her late 40s, because her husband was a member. "She didn't want to join at first," Martino recalled. "But her mother talked her into it." The Martinos have reaped the many benefits of the center's programs for more than 20 years.
"We're regulars. We come five days a week," Martino says of the Marconi Older Adult Program. Carmella adds, "It gives us something to do. It gets us out of the house."
According to Luke McKetta, director of Caring People Alliance – South Philadelphia, which manages Marconi, the Martinos are beloved members of the Marconi family. Carmella, who has experience working in a cafeteria, volunteers in the center's kitchen and participates in all the center's activities, including exercise and theater groups. Martino participates in the holiday show and shares his singing voice in the music programs. The couple also runs the Friday morning "Coffee Café" and leads the Phone-a-Friend group, which checks in on members who are sick.
The Martinos plan to keep up their activities for some time to come. Martino says that longevity runs in his family; his father lived to 101. "Seventy-five is not considered old today," he said. "Maybe, back in the day, it was. I don't feel old, and people tell me I don't look my age. It's how's you take care of yourself that matters." His advice for staying healthy: "You don't have to eat healthy 24/7, but be careful about what you eat. And exercise."                               
CAPTION: John Martino, who lost his sight more than 50 years ago, remains active in the community with the support of his loving wife, Carmella. They are pictured at the Marconi Older Adult Program.  (Photo by Paola Nogueras)