Looking at "spiritual coping"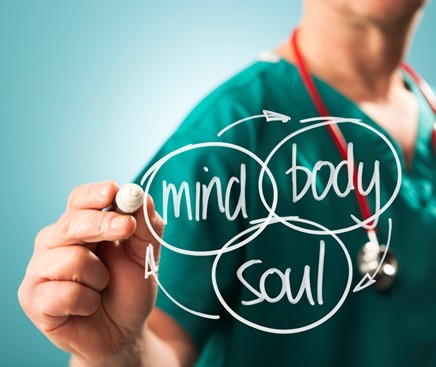 By Barbara Scherf
When I visited a new doctor recently, he took the initiative to ask me about my religious beliefs. I was at first shocked but then comforted by the fact that he looked at the whole of me.
According to a poll from Pew Research Center, 65 percent of Americans identify themselves as religious and another 18 percent describe themselves as spiritual. According to the National Cancer Institute (NCI), many patients rely on spiritual or religious beliefs and practices to help them cope with their disease. This is called "spiritual coping." Many caregivers also rely on spiritual coping.
For some seriously ill patients, spiritual wellbeing may affect how much anxiety they feel about death, notes the NCI. For others, it may affect what they decide about end-of-life treatments. Some patients and their family caregivers may want doctors to talk about spiritual concerns but feel unsure about how to bring up the subject. That was not the case for East Norriton resident Sharon Shecter Cohen, who at 70 has had her share of life challenges and health woes: two strokes, aortic stenosis (the narrowing of the exit of the left ventricle of the heart), a cancer diagnosis at 30, the deaths of two baby girls within a week of their births, the recent death of a grown son, the muscular dystrophy of a 51-year-old daughter, and the death of a husband of 29 years. Now remarried and an active volunteer at several hospitals and schools, Cohen sought out a physician, William Dickerman, D.O., who did not tip-toe around the subject of religion.
"He talks to the whole person – not just about physical or mental health issues, but also about religious beliefs," Cohen said. "He asks me if I have talked about my issues with my rabbi and whether my religious community is supporting me. That's important."
She describes Dickerman as something of a country doctor who spends an hour or more with a patient and explores the individual's belief system. Experts say that that kind of  discussion has become more common as studies continue to show the benefits of the medical community exploring – and some embracing – the idea that faith plays into overall wellness.
"The younger generation of doctors trained in the last 10 years or so clearly have been exposed to teachings on the importance of spiritual, emotional and physical health," said Jerry Johnson, M.D., a professor of medicine at the Perelman School of Medicine at the University of Pennsylvania and chief of the geriatric medicine division. "Doctors are more aware of the role of hospital chaplains over the past 15 years and are having open discussions about the patients' spiritual beliefs."
Having received a grant from the National Institutes of Health, Johnson and his team are studying the feasibility of working with the African-American church community in Philadelphia to improve communication about end-of-life issues.
"One way to think about it is to focus on a good life up until the last minute, and what a good life is going to look like will vary from person to person," Johnson said. On the other hand, he said, "a good death is all about comfort and being able to spend quality time with loved ones. In terms of an untreatable cancer, chemo causes weakness and tiredness and interferes with the goal of comfort. The question is: Is it better to spend the last two weeks with family versus in a hospital bed with a lot of tubes?"
The Rev. Calenthia Dowdy, Ph.D., director of faith-based initiatives at Philly FIGHT, is a Mennonite minister who has seen the positive effects of having faith when facing a positive test for HIV, the virus that can lead to AIDS.
"The thing that gets many people through the shock and trauma of diagnosis is a reliance on God," Dowdy said. "Some may not have defined themselves as a believer, but they say, 'HIV saved my life because it forced me to turn inward and toward spirituality.' I have seen where they … heal better in general because their immune system is boosted, and that's what HIV is all about anyway. Faith seems to be one of the things that does that."
Dowdy herself incorporates spirituality in the way she deals with patients, urging them to look at faith and other healthy avenues to boosting the immune system, including laughter, walking and meditation. She has seen a slow turnaround among her peers the health care field. "It seems the more scientific proof we have, the more this actually happens where medical providers get on board," she said.
With a master's degree in psychology, Patricia Evans has a counseling practice in North Philadelphia in which she helps clients with sobriety. She was a five-year cancer survivor until a reoccurrence six months ago. A deaconess in her church, she relied on her faith and found that her medical team at Cancer Treatment Centers of America included spirituality in their approach to her diagnosis.
"I noticed the brochures in the display holder dealing with spirituality, and that opened up conversations with my doctors, who wanted to get to know me as a person," Evans said. "I know that prayer and meditation helped me with pain management and reduced my feeling of being sickly, and I was at peace and in a calmer state of mind."
So the next time you see your family doctor, tell him or her you read this article and open the conversation that so many don't know how to open.
CAPTION: "Spiritual coping" can help many patients and caregivers.  (iStock)