Longest-tenured PCA employee to retire: Saying good-bye to David Nevison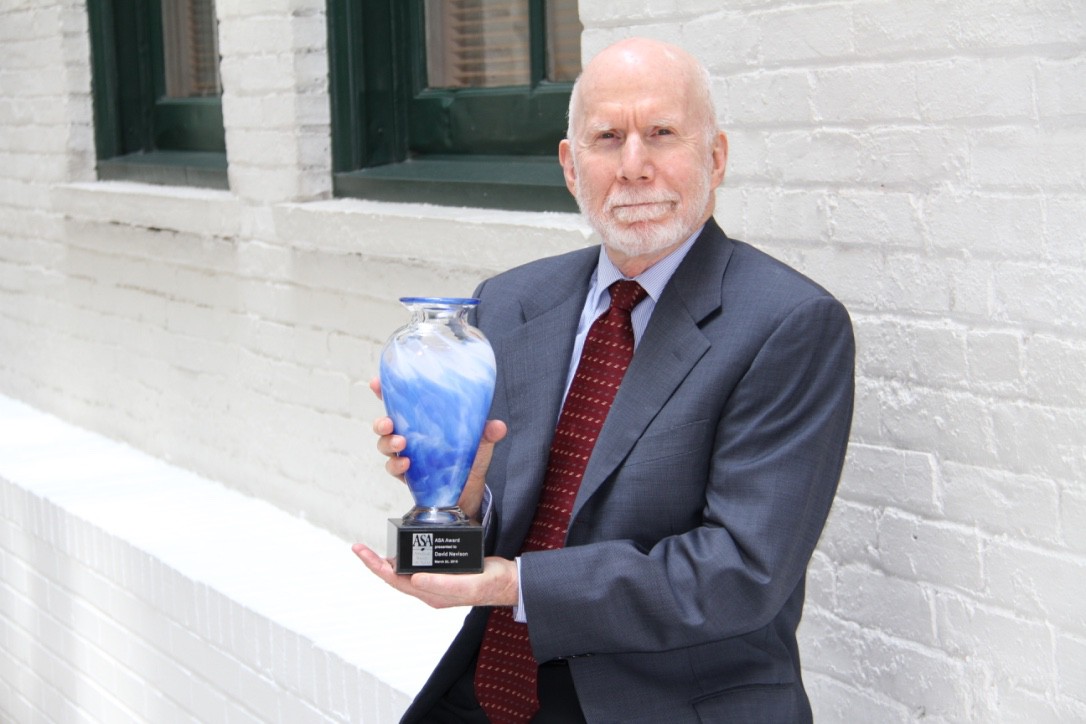 By Alicia Colombo
When David Nevison, M.S.S., M.B.A., started his employment at PCA on Oct. 15, 1974, as the agency's first nutrition coordinator, he was just looking to get his foot in the door in the field of community service. He had no idea the job would turn into a 43-year career in which he would become a leader in aging services. At the time, he had an undergraduate business degree from Philadelphia University, eight years of business experience working in corporate settings, a Master of Business Administration in Finance from Temple and had just completed Master of Social Service degree in Social Planning from Bryn Mawr College.
"I had just made the decision way back then to leave the corporate world and to do something that had meaning for me," Nevison says. "I was 32. I didn't have any specific long-term goals or experience in social services. I wanted to get into health or mental health services but instead found my calling in the field of aging programs."
'A new agency'
When he came to PCA, the agency was less than a year old. "It seemed like a great opportunity," he says. "There were so many new programs. It was a new agency, and I was new to the field. There were maybe 25 employees in total. There was the start of senior centers and SARA, which stood for the Senior and Assistance and Referral Agency. SARA was a phone line and outreach workers, which would be the equivalent of the Helpline and Community Relations Department today."
As the nutrition coordinator, Nevison managed contracts for the agency's nutrition sites, a precursor to today's senior centers. Within a year of being hired, he was promoted to the agency's first director of program management. In that position, he oversaw the management of senior community centers, as well as the agency's contracts with homemaker services, which provided a range of in-home services, and protective services. "In the beginning, the homemaker agency did all the assessment and care management themselves," he says. It was during that time that PCA started to offer service management (now called service coordination).
In 1986, Nevison was promoted to director of planning. At the time, the department had planners and training staff, as well as some fundraising capacity and grant-writing that was focused primarily on the Emergency Fund. "When I first took the position, I saw the Planning Department's goals as helping the agency prepare for its future," he says. "I was thinking long-term about how PCA presents itself to the outside world. The rest of the agency was primarily focused on immediate services issues. I knew we needed to be proactive. I foresaw us operating as a mini-consulting firm, where other departments and employees could come to get support. I always felt the primary focus should be to work with other departments at PCA and support them. We serve employees as our consumers."
During Nevison's 32-year tenure in the Planning Department, the department has added several functions and features, including a gerontological library; research; marketing and development, which includes full-scale fundraising efforts and the addition of The Philadelphia Fund for Seniors; and communications. "As the agency grew, part of the goal and challenge for planning was to determine how to improve the flow of information within the agency and throughout the aging network," says Nevison, whose title was later changed to chief planning, development and government relations officer to reflect the widening range of his responsibilities.
He feels the Age-friendly initiative to help create a more inclusive city that caters to the needs of older adults and people with disabilities, News Bulletin electronic newsletter, and other efforts started under his management have helped people in the aging-services network feel more connected to a shared purpose. In addition, as part of PCA's recent culture change initiative, he has been involved in an effort to build camaraderie among employees. "When people are part of a team, they work harder and more effectively," he says.
Honoring excellence
Nevison received the 2018 ASA Award in March from the American Society on Aging In honor of his stellar contributions in research, administration and advocacy related to Philadelphia seniors during "a career that has allowed him to develop inventive programming in aging, as well as to build a department and staff it with people who work together collegially." "It was so heartwarming when I won this award, to see and hear from people I'd worked with for years who thought my contributions were valuable enough to be recognized in this way," Nevison says.
After 43 years and eight months of service to PCA and the seniors of Philadelphia, Nevison will retire at the end of June at the age of 76. "It just seems to be time to do some other things," he says. "I've always worked for somebody in my 50-plus years of full-time employment. I've never worked for myself. I want to get away from the working world and take time to decide how I want to spend my time. I know I'll miss everybody here. It's really like a second family."
Eventually, Nevison wants to learn to play the piano and take photography classes. For the time being, he will enjoy just being with his family. He lives in Bala Cynwyd with his wife of 34 years, Cheryl, and his 30-year-old twin sons, Brian, who is a personal trainer and wellness coach, and Robert, whose main focus is on electronic devices like computers, tablets and cell phones and how they all connect.
Celebrate David Nevison
PCA employees and aging network colleagues are invited to a retirement party in David Nevison's honor on Tuesday, June 26 from 2:30-4:30 p.m. at PCA, 642 N. Broad St., second-floor meeting room. To attend, please RSVP to Kimberly.Glenn@pcaCares.org by June 19.
Caption: PCA's David Nevison posing with the 2018 ASA award from the American Society on Aging