'Labor Justice Radio' is a labor of love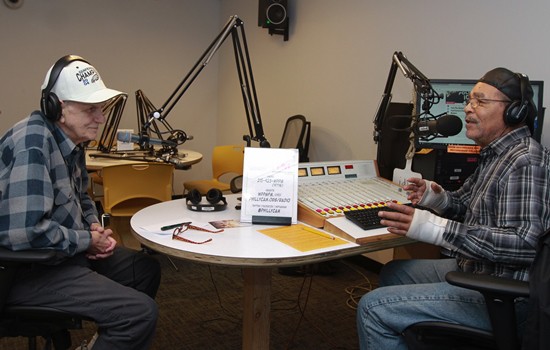 By Linda L. Riley
Altogether, Charles B. Clarke and Jim Moran have dedicated more than a century to advocating for and supporting labor unions and workers' rights, and retirement hasn't slowed them down a bit. These days, they use a combination of old and new media to spread their message of solidarity and share news that impacts working people. The two host "Labor Justice Radio," a weekly show that airs on WPPM 106.5 FM. They have a Facebook page by the same name where they post news about labor issues and unions gathered from various publications and organizations to keep their 1,200 followers informed.
Their broadcast conversations cover a broad range of topics and diverse points of view. Guests on the show have included workers, union leaders, students and, not long ago, a lawyer from Community Legal Services who talked about immigrant workers.
"We try to touch on everything that involves labor," Clarke said. Right-to-work laws, union elections, plant closings, layoffs and public sector unions are among the issues they've addressed.
Both men were teens when they first joined a union, and both went on to be involved in organizing and advocating for union members. Clarke was 19 when he joined the International Association of Firefighters in 1964. Moran was 16 and working at the North American Lace Factory at Eighth and Allegheny streets when he joined the Textile Workers Union in 1955. Later, he was a member of the Teamsters Auto Workers International Union of Electrical Workers.
"In the Auto Workers, I was a shop steward," Moran said. He pursued educational opportunities through the Auto Workers and became involved in health and safety issues, eventually joining the staff of the Philadelphia Area Project on Occupational Safety and Health, which, he said, was fighting for better working conditions.
Clarke retired in 2010 from his position as administrator for a training program with the Philadelphia Joint Board, Workers United. Earlier in his career, he served as a union shop steward at the Pennsylvania Convention Center and at the Hyatt at Penn's Landing, now a Hilton property.
The "Labor Justice Radio" program grew out of a Media Mobilizing Project workshop on how to produce a radio show. "In that first workshop, everyone was a union member and the idea for the show came out of it," Clarke said. Over the past seven years, the five other original members of the project have dropped away, leaving only Clarke. He invited Moran last year to join the show, which switched from its original home on WPEB, a West Philadelphia-based community station, to WPPM, which he said has greater reach.
Recently, the two hosted fellow union member and musician John Braxton, who shared a song about workers at a 3M plant in South Africa going on strike in response to news of another of the company's plants closing in Freehold, New Jersey. That performance led to a conversation about international corporations and commonalities shared among workers around the world.
"We try to bring up issues that are not necessarily talked about on other shows," Clarke said. "While we are pro-union, we also talk about things the unions could be doing in relation to the social issues of the day."
***
Labor Justice Radio can be heard Mondays from 5 to 6 p.m. on Philadelphia Community Access Media's station, WPPM 106.5 FM. A low-frequency community-based station, WPPM has a 90-watt signal that reaches about 800,000 people from Center City north to Lehigh Avenue; south to the sports stadiums, west to University City, and east to Cherry Hill in New Jersey. Those outside the coverage area can listen online at phillycam.org/radio/listen. Clarke and Moran can be contacted via their Facebook page, Labor Justice Radio.