Home technology promotes seniors' independence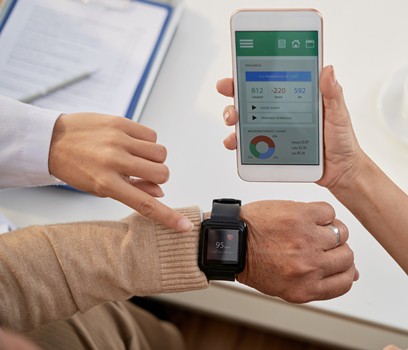 A significant rise in the number of people 65-plus is driving technological innovations aimed at helping older adults live more independently. The United States Census Bureau estimates that the nation's 65-and-older population is 46 million and will reach 83.7 million by 2050. With more Americans living longer, the demand for technology to help people "age in place" will only increase. The most popular home technology currently on the market comes in the form of voice-assisted devices such as Amazon Echo or Google Home, according to a report in USA Today. These devices allow users to control lighting and thermostat settings with just the sound of their voice, giving seniors greater control over energy use.
Seniors can also use the devices to set reminders about medication or upcoming appointments. In an emergency, these devices allow users to get in contact with first responders or loved ones instantly, even if they are unable to reach a telephone.
Some devices offer more personalization and are specifically marketed to seniors. Reminder Rosie allows users to record custom messages that will alert them when it is time to take medicine, put garbage out for collection or call a relative.
MedMinder is a high-tech pill dispenser that can simplify complicated medication schedules through a series of visual and/ or auditory alerts. The device can schedule medication for multiple weeks and can be set up to lock and unlock only at certain times of the day. If an important dose is missed, a built-in cellular connection can connect users with a caregiver automatically.
Wearable technology that tracks movement can help family members remain connected to their older relatives from anywhere in the world. FitBit is a watch-like device that tracks a user's steps in real time. When paired with a relative's smartphone, these devices can alert loved ones to potential problems. A dip in recorded activity, for example, could signal sickness or an urgent mobility issue.
More advanced technology is in development across the country. Researchers at the Georgia Institute for Technology test cutting edge devices inside a 5,000-square-foot living laboratory called the "Aware Home." The facility looks like a normal three-story residential home on the outside but is outfitted with state-of-the-art technology.
Researchers' main goals in the facility are to make homes safer for older adults by reducing the incidence of the most common accidents, according to CNN. Much of the technology being tested inside Aware Home is aimed at reducing accidents related to cooking and household chores, such as kitchen fires from unattended stoves or water damage from neglected water sources.
Many of the devices being developed will collect personalized data to better serve individual users in their homes. For instance, Aware Home is outfitted with gait-sensing technology that constantly monitors movement and can detect changes in walking patterns. The data is analyzed and paired with an algorithm to alert caregivers to any potential changes in an individual's gait pattern.
Researchers say their goal is to provide more personalized options for older adults, allowing them to live more independently. Organizations like Aging in Place Technology Watch track many of these advancements from the development stage through market launch. Read more at AgeInPlaceTech.com.
Sources: USA Today and CNN
CAPTION: Personal devices can help family members get connected to older relatives from anywhere. (Photo: iStock)