Historic cemeteries offer many autumn activities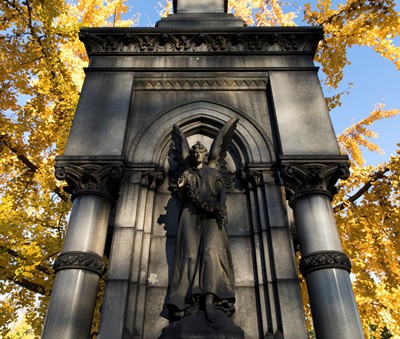 By Constance Garcia-Barrio
If you're looking for a dose of history and autumn beauty, try dropping by an area cemetery. Philadelphia's cemeteries feature architectural marvels, lush gardens and often-forgotten history. In October, some cemeteries offer quirky tours, sell organic produce, share stories about personalities of the past, and host Halloween parties ablaze in autumn's mantle of crimson and gold.
Historic Fair Hill
Historic Fair Hill Cemetery and Garden (HFH), 2901 Germantown Ave., sits on 4.5 acres that William Penn gave to his friend and fellow seeker of religious freedom George Fox, founder of Quakerism. Some of this burial ground's permanent residents live on, not only in legend, but also in a three-story mural at 2902 Germantown Ave. Rows of collards, kale, beans and tomatoes grow near the graves of Quaker abolitionist and grandmother of the women's movement Lucretia Mott and black businessman Robert Purvis, whose South Philadelphia home became a safe house for fugitives from slavery. Mobs threatened to kill these two staunch abolitionists because of their anti-slavery activism.
HFH provides a peaceful space where children in this North Philadelphia neighborhood can play, learn about history, and enjoy the organic fruits and vegetables grown there. "We host family-friendly parties, and we have workshops on how to grow and cook vegetables," said HFH director Jean Warrington, 67.
On Saturday, Oct. 13, from 10 a.m. to 2 p.m., HFH will celebrate Orchard Harvest in partnership with Philadelphia Orchard Project, a nonprofit that plants and supports community orchards in the city. "We have figs, peaches, apples, plums and Asian pears," Warrington said. "We invite the public to share our fruit and learn our history."
For more information, call 215-844-1683, ext. 107 or email info@historicfairhill.com.
The Woodlands
At West Philadelphia's Woodlands Cemetery, 4000 Woodland Ave., across the street from a trolley portal, names on headstones read like a "Who's Who" among 19th- and early 20th-century Philadelphians. Founded in 1840, the Woodlands is a 54-acre National Historic Landmark, meaning that it has been recognized by the federal government for illustrating the heritage of the United States. The Woodlands has become the final home of controversial realist painter Thomas Eakins and distinguished cardiologist Jacob Mendez Da Costa, M.D., who served as an assistant surgeon during the Civil War, during which he did one of the earliest studies of anxiety disorders in soldiers, at first called "irritable heart."
The Woodlands' beginning dates to 1766, when William Hamilton inherited 356 acres of land in West Philadelphia, then known as Blockley Township. In 1770, Hamilton built a magnificent porticoed house with a view of the Schuylkill River. An anglophile, he visited England after the war and enlarged his house based on what he'd seen there, transforming it into the country's first federalist mansion. Some of the rooms have geometric shapes, including his drawing room, America's first Oval Office. Visitors may take regularly scheduled tours of the mansion Thursdays, April through October, at 10 a.m., 12 p.m. and 2 p.m. The cost is $10 per person or $8 for seniors
Today, the Woodlands provides lush, green, healing quiet to 40,000 visitors a year. "People walk, jog, and picnic here," said Emma Max, program and operations manager. "We also have wildlife walks and bird-watching with our resident bird expert."
Several special events are scheduled for this month. HollyWoodlands, in Friday, Oct. 12, from 7-10 p.m., will feature a screening of the original Ghostbusters film for a suggested donation of $10. Halloween Family Funday on Sunday, Oct. 21, from noon to 3 p.m., includes a scavenger hunt involving the stories of some of the Woodlands' permanent residents. See upcoming event information at woodlandsphila.org/events-calendar.
Laurel Hill
If you venture to Laurel Hill Cemetery, established in 1836, you'll follow in the footsteps of Philadelphians from times past. In the 1840s, not only funeral-goers but also pleasure-seekers visited this 265-acre site, a National Historic Landmark in the East Falls section of Philadelphia on the banks of the Schuylkill River. Philadelphia residents used to arrive by steamboats on an hourly circuit between Fairmount and the falls of the Schuylkill. Nearly 30,000 people entered the gates between April and December of 1848, according to the cemetery's archives.
At Laurel Hill, 3822 Ridge Ave., several gravesites – including those of six passengers of the Titanic – still draw visitors. There are also 43 Civil War leaders buried here, including Gen. George Gordon Meade, who defeated Confederate commander Gen. Robert E. Lee at the Battle of Gettysburg in 1863. Bacteriological chemist and refrigeration engineer Mary Engle Pennington also rests here. Shehelped to develop refrigerated boxcars.
Laurel Hill Cemetery's gates are daily from early morning until early evening for self-guided walking, driving or mobile tours; and for exercise, nature walks, dog-walking, biking, picnics or relaxation. Scheduled activities include outdoor yoga sessions and theater performances, including Shakespeare, murder mysteries and adaptations of Poe, and an annual 5K run. Laurel Hill offers tours from the sublime to the spooky. "True Tales from the Tombs" at 7 p.m. Friday, Oct. 12, will spotlight scandal, mystery and murder. At 1 p.m. Sunday, Oct. 14, actor Bill Barker, 65, a Villanova graduate in history who has portrayed Thomas Jefferson at Colonial Williamsburg for 25 years, will present "The Worlds of Thomas Jefferson."
"We'll take a leisurely two-hour stroll to the graves of Jefferson's friends and foes at Laurel Hill," said Barker. "It's a passion for me."
"Oddly Departed: Mischief Night Mysteries," a tour at 6 p.m. Tuesday, Oct. 30, caps off the month. For more information see thelaurelhillcemetery.org/events or call 215- 228-8200.
Laurel Hill also is a certified arboretum. "Whether you come for a tour or a picnic on your own, October is one of the best times of the year to visit," said Emma Stern, director of programs. "With all the leaves changing color, it's spectacular."
CAPTION: A monument of West Philadelphia's Woodlands Cemetery stands in front of a Ginkgo tree. The species was first introduced to the U.S. by William Hamilton when he brought them to the site. (Photo: Ryan Collerd)