Highlighting a black war hero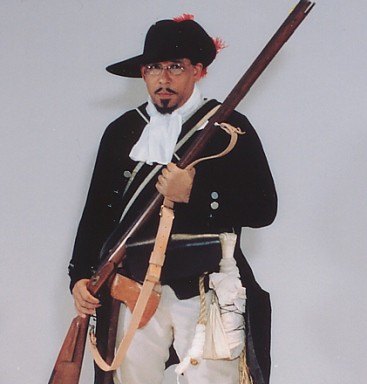 Noah Lewis always had an interest in history and in learning more about his African-American heritage. But it was his late wife Mary's example as a teacher and volunteer classroom aide that led the biomedical technician to become a professional Revolutionary War re-enactor full-time. He depicts the life of African-American soldier Edward (Ned) Hector,  a Revolutionary War hero from an area in Montgomery County now known as Conshohocken. Using Hector as focal point for these educational sessions, Lewis presents on African-Americans' lives in Colonial America at schools, historical sites and historical re-enactment events.
Prior to researching this topic, he thought that Colonial African-Americans were only poor, uneducated slaves and manual labors. He came across Hector's story while reading a book about black genealogy by African-American historian Charles Blockson. "It totally changed my opinion," he said, and it spurred him to learn more about the man and his times.
In doing so, he found out that between 3,000 and 5,000 African-Americans had served the Colonial cause. Gen. George Washington commanded one of the most integrated armies prior to 1948, when the segregated U.S. Army was re-integrated in preparation for the Korean War. "African-Americans played an important part in the struggle for freedom," Lewis said. Many of the people who helped to rescue Washington's trapped army at Brooklyn Heights in New York were black sailors, he pointed out, and blacks served as Colonial spies in the British Army.
"People don't get what that means," he said. "It means that we, who are enjoying the rights and freedoms that we have now, are doing so in part because of the black people who died. Without the contributions of all these black people, we would not have won our freedom … Please understand, I am not implying we blacks won the American Revolution all by ourselves. We couldn't have won without the French, Irish, Native Americans or the many other groups. It was an integrated effort. Our power as Americans has always been from our diversity. It always will be in our diversity. The only shame is that we don't appreciate each other as we should; therein is my mission."
So, who was this man, Ned Hector? "He's you and me," Lewis said. "He's an everyday person, but he was also a hero. He was a teamster and bombardier who would transport artillery and help to fire the cannons. He [was] a brave man. He engenders a lot of respect."
During the Battle of Brandywine, Lewis said, Hector's artillery unit was ordered to retreat because it was being overrun by British troops. "Ned said, 'I will save my horses or I will die myself.' Then he gathered up whatever guns he could and saved his horses and the wagon with the supplies," he said. "I think he was the first black to live in Conshohocken and to have a street named after him. He's the only black person from the 1800s I know of who has something named after him during this time period. That's pretty significant."
Lewis has co-authored a book, "Edward 'Ned' Hector: Revolutionary War Hero – Time Traveler" that's available in paperback and e-book on www.amazon.com. For more information about Ned Hector and Lewis' re-enactment appearances as Ned Hector, go to Lewis' website at www.nedhector.com.
(Photo courtesy of Noah Lewis)