Help with money management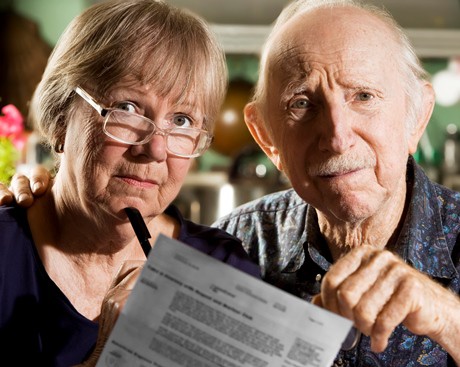 Help with money management issues such as bill-paying constitutes "a big unmet need" among senior citizens, says Joseph Snyder, director of older adult protective services for Philadelphia Corporation for Aging (PCA). Some firms offer money management services, including bill-paying assistance and help managing medical and long-term-care insurance claims, but since the field is in its infancy and is not regulated, caution is advised when thinking about using them. According to the National Adult Protective Services Association (NAPSA), financial exploitation is a fast-growing form of abuse of seniors and adults with disabilities.
Three local businesses illustrate how money management services can work.
Providing 'wealth care'
As program director of Financial Empowerment Centers for Philadelphia, Carey Morgan saw first-hand the devastating impact of financial exploitation on seniors. "What shocked me was the number of stories I heard about seniors falling victim to terrible scams and financial abuse," she says. "Every case was heartbreaking, and no one was immune."
That experience inspired her to start her Mount Airy-based company, My Livelihood, a year ago, offering money management services for seniors. "We need wealth care – we need to treat finances as part of our health regimen," she says.
Generally, Morgan's clients are the children or caretakers of seniors, who may live out of town. Morgan's basic fee is $45 per hour, with a first-time set-up charge of $75 following a free initial consultation. "A lot of people can't afford to have an accountant come to their house – and many don't need one," she says. She is not an accountant but has experience with financial management from a five-year stint as executive director of the Greater Philadelphia Coalition Against Hunger and is a self-described "personal finance geek."
"This is a new field, and there aren't many people in this area who do it," Morgan says. She is a member of the American Association of Daily Money Managers but acknowledged that the organization has no training requirements to join. "There is no regulation of the field because it is so new," she says.
Morgan's services include organizing and reconciling bank accounts, helping with the processing of medical insurance claims, making bank deposits, providing clients with reports of their financial activity and preparing bills for payment. As a safeguard, all checks must be signed by the senior or her agent (person with POA) or court-appointed guardian.
"Too often, people aren't looking at their parents' financial situation until it's too late," Morgan says.
Paying for in-home care
Based in Blue Bell, FHS SeniorCare Payment Solutions was founded in 1987 and initially served in-home care providers by managing caregivers' time slips and activity logs and submitting providers' claims to long-term care insurance companies, Medicaid, the Veterans Administration, disability insurance companies and others. The company also helped providers' clients understand the benefits for which they might be eligible. Those efforts grew into providing services directly to care recipients. "We fill a financial advocacy role," says Matt Capell, FHS chief executive officer. If an individual has a long-term care insurance policy, he says, "we call the insurance company and determine what's in the policy and what care will be paid for."
In order to perform this service, FHS first obtains a release from the policy holder permitting the company to access information about the person's care. After that, the company creates a summary of benefits for the individual and the care provider and gathers the information needed to assist with opening a claim. Once the care is in place, FHS tracks caregiver hours, pays caregivers and handles insurance paperwork.
FHS sometimes is paid by the care provider and other times by the care recipient. If the recipient is paying, Capell says, the cost varies depending on how much care the person receives but is generally between $250 and $300 per month.
Money management and more
Bill paying is only a small part of the work of Media-based Senior Care of PA, which provides long-term care planning and care coordination for seniors in Philadelphia and surrounding counties. The organization also provides guardianship, powers of attorney and representative payee services. It is primarily in those capacities that money management, including bill paying, is provided, but executive director Carol Hershey says the company has done some bill paying for clients for whom they do not have those powers. For this service, the rate is $115 an hour.
In one case, she says, a woman who lives out of state has POA for her mother and was able to designate the company as a surrogate. "We receive all the mail, pay the bills and stay in touch with her," Hershey says.
Stay connected, be cautious, plan ahead
The best protection for seniors is to stay connected to others and, if possible, to not put too much power into the hands of any one person, Snyder says. One option is to have a friend or family member collaborate with a money manager to handle the senior's financial affairs. This method can be particularly useful when, as is often the case, the senior lives far from family and friends, or when finances or insurance claims are particularly complex. Planning ahead by giving someone power of attorney (POA), which allows her to make decisions if the senior no longer can, is one safeguard.  Doing so can be challenging for an elder who has few or no close friends or family members, in which case Snyder recommends contacting an attorney or the PCA Helpline at 215-765-9040 to discuss options for protecting yourself.
For more information:
Carey Morgan
My Livelihood
267-428-1557
Matt Capell
FHS SeniorCare Payment Solutions
484-674-3760, ext. 200
Carol Hershey
Senior Care of PA
610-565-5588
PHOTO CAPTION: Money-management services include bill-paying, managing bank accounts and helping to process insurance claims. (Thinkstock)