Grandfather passes on traditions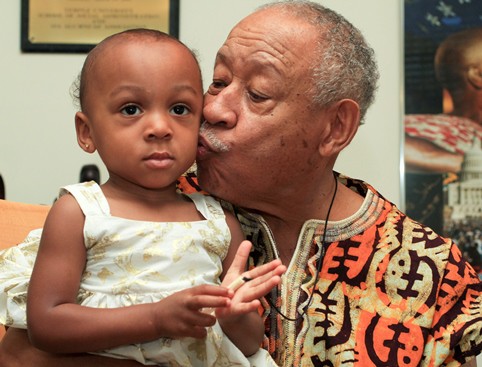 Sunday, September 10 is National Grandparents Day. Telling stories, sharing traditions, offering warmth and love – grandparents hold a unique place in the lives of their families. They are keepers of family history and ethnic heritage, are rich in life experience and often are passionate about passing on what they know.
Here, John Groce shares with our readers what being a grandparent means to him, how he helps to perpetuate his cultural heritage within his family, and the role he and his  grandchildren and great-grandchildren play in each other's lives.
'A mighty force'           
John Groce never knew his grandfathers. "Both of them died before I was born," says the African-American grandfather of nine and great-grandfather of six. "I never had a role model, so being a grandfather meant on-the-job training."
He did, however, learn a lot from his maternal grandmother. Along with his mother and sister, Groce lived with her for several years and observed that a grandparent can be a mighty force. "My grandmother demanded respect," Groce says. "She played no games with anyone. Whatever she wanted, she verbalized."
Groce says his grandmother was not educated past third grade. However, she taught herself to read and write proficiently, was wise in life experiences, and "was able to transmit a lot of knowledge," he says.
A tradition of respect           
Respect for elders is a key aspect of African and African-American culture, Groce says, that is borne out in successive generations of his family. "The young people in my family don't do things in my presence they might think of doing with their friends if it would be disrespectful to me," he says. "For instance, they know that foul language is not permitted."
Groce's grandchildren range in age from 25 to 48 and his great-grandchildren from 1 to 22. As a central figure for them during their maturation, he notes, he's been careful to observe certain rules. For instance, if a great-grandchild is jumping on the furniture, he says, "I would say, 'That's not good for you and not good for the furniture' and tell him to stop." Nonetheless, he says, "If I had only one piece of advice to give about being a grandparent, it would be, 'Know when to hold 'em and know when to fold 'em. Stay in your own lane.' It's the parents' job to discipline their children."
Celebrating a heritage
Groce, who holds a doctorate in education, was the first in his family to go to college. With the help of his education and career as a social worker and professor of social work, he is intent on passing on both his academic knowledge and the life lessons he has learned. "One of the things I try to teach the younger generations is to be proud of their African history and heritage," the patriarch says.
As the family elder, Groce often performs the traditional African libation ceremony at the start of occasions such as weddings and funerals, and during baby-naming ceremonies. The ritual is a way to pay homage to one's ancestors in keeping with the African tradition of honoring elders. During the ceremony, Groce recites a prayer calling on the spirits of the family's ancestors to be in attendance. The names of those who have recently died are called out. Groce raises a ceremonial cup of African water, then pours the liquid onto the earth or the dirt of a potted plant. (Wine can also be used.) The ceremony makes an impression on even the youngest children, he says.
As Groce's family has grown over generations, some members have adopted faiths other than the Christianity in which Groce and his late wife of 60 years, Rosetta, raised their children. Despite these differences, the libation ceremony remains a common thread during special occasions, Groce says. Faith and a strong belief in the importance of family, along with an appreciation of African traditions, bond the family members.
"We've got different ways of worshiping," Groce says, noting that some of his offspring are Islamic, while others celebrate the Kemetic religion, a spiritual tradition that originated in ancient Northeast Africa. "We come together to celebrate holidays in all these faiths," he says. "We also celebrate Kwanzaa." (Kwanzaa is a secular festival observed by many African-Americans from December 26 to January 1.)
In addition to being a part of all these celebrations and major life ceremonies, "I try to be there for everyone's birthdays," Groce says
Bonds of faith
Faith is the bedrock of Groce's family. "The youngsters know that they are not the center of the universe, that all of us are connected to God and that we answer to a higher power," Groce says. He has also helped to instill in the younger generations how important it is to give back – to support faith institutions and social causes and to share their abilities, whatever they may be, to benefit others.
When Groce turned 85 earlier this year, 200 people joined him to celebrate at a local catering hall – including all of his children, grandchildren and great grandchildren, who were intent on expressing the love they share with him. "I'm lucky," he says. "I've been able to watch my children, grandchildren and great-grandchildren grow up. And that means a whole lot."
CAPTION:  Patriarch John Groce expresses his affection for great-granddaughter Mali Groce, 2. (Photo by Paola Nogueras)