Enjoy this robust chicken soup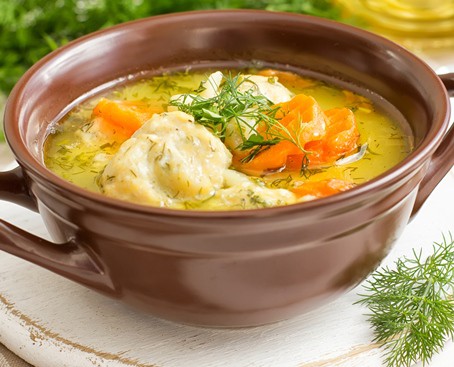 Flavorful chicken soup makes an easy one-dish meal. Packed with protein, vitamins and minerals, it's guaranteed to fortify you during the cold-weather season. Scientific evidence is accumulating that chicken soup may actually help you fight colds, too. According to the University of Pittsburgh Medical Center, research suggests that chicken soup slows white blood cells from gathering in the lungs, therefore slowing the progress of the irritating side effects of a cold, like coughing, sneezing, and having a stuffy, runny nose. Chicken soup also helps you stay hydrated, which is important anytime but crucial when you're feeling under the weather. The recipe that follows features items known to be good for brain health like olive oil, vegetables, beans and poultry.
Robust Chicken Soup
Ingredients:
(Servings: 6)
2 cups cooked cannellini beans, or 1 (15-oz.) can, rinsed
Freshly squeezed lemon juice
Sea salt
2 tbs. extra-virgin olive oil
1 yellow onion, finely diced
2 fennel bulbs, finely diced
2 large carrots, peeled and finely diced
4 stalks celery, finely chopped
2 cloves garlic, minced
¾ tsp. chopped fresh sage, or 1/4 teaspoon dried
1 tbsp. fresh thyme leaves, or 1/4 teaspoon dried
6 cups organic chicken stock
2 cups sliced cooked organic chicken
1 tsp. lemon zest
2 cups arugula leaves
2 tbsp. finely chopped parsley
2 tbsp. finely chopped basil
Directions:
In a bowl, stir together the beans with a spritz of lemon juice and a pinch of salt. Set aside.
Heat the olive oil in a soup pot over medium heat, then add the onion, fennel, carrots, celery, and 1/4 teaspoon of salt, and sauté until golden, about 15 minutes. Stir in the garlic, sage, and thyme and cook for another minute.
Pour in 1/2 cup of the stock to deglaze the pot, stirring to loosen any bits stuck to the pot, and cook until the liquid is reduced by half.
Add the remaining 5 1/2 cups of stock, the beans, bring to a boil over medium heat, then lower the heat and simmer until the vegetables are tender, about 8 minutes.
Stir in the cooked chicken, zest, 1 tbs. of lemon juice, arugula, parsley, basil, and another 1/4 tsp. of salt, and serve right away.
Variation: Spinach or kale cut into bite-size pieces can be substituted for the arugula.
If using raw chicken (pieces), add with the beans and vegetables and simmer until cooked through.
Source: The Healthy Mind Cookbook
CAPTION: Flavorful chicken soup makes an easy one-dish meal, perfect for the winter season. (iStock)