Home living in PCA's Domiciliary ('Dom') Care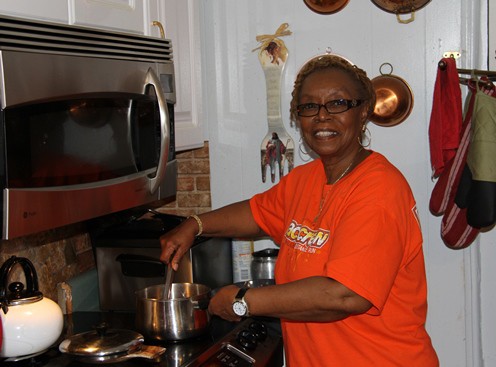 Philadelphia Corporation for Aging's (PCA's) Domiciliary Care ('Dom Care') program marks 40 years of service to consumers this year. Through the program, PCA matches adults, who are elderly and/or who may have physical or mental disabilities, with providers who are willing to share their home and provide meals, housekeeping and laundry assistance, arrange transportation to medical appointments, and administer medications and assist with personal hygiene as needed.
"Most of all, they provide attention and support to consumers who otherwise would be living in a personal care home or other institutional setting," says Jean Janik, PCA director of community living options. "We continue to seek more Dom Care providers and consumers," Janik says.
Consumers                                                                       
To be eligible for Dom Care, people age 18-plus must have some type of physical disability or mental health diagnosis that impedes them from living alone. An assessment helps determine if the program can support the individual's needs and discusses their preferences for a home or area of the city. For some, an environment with children or pets may be desirable. The individual is given a choice of homes, and there is a trial visit. The consumer pays the provider a monthly fee, usually through Social Security, Supplemental Security Income (SSI) and/or a retirement account, for room, board and services.
Providers                                                                   
Provider applicants go through a certification process that includes an assessment to determine the type of care the provider is able and willing to provide. Providers must give references, pass a background check, participate in initial and continued training, and undergo a home study. All provider homes are certified and monitored annually to meet state fire and safety regulations, and also for basic cleanliness and security. The home must have a private room for each participant, who should also have access to bathroom, kitchen and laundry facilities as well as dining and living space. A limit of two participants may live in each provider home. Dom Care staff maintains contact and checks in regularly with providers and participants throughout the entire placement.
A provider's perspective
Barbara Hough, 56, is one of the providers in PCA's Dom Care program. "The woman living with me is my age, but she has physical challenges," says Hough. "She's very pleasant, but needs help and can't be alone for too long."
Hough decided to become a provider because she understands the need firsthand. "I have a cousin who's in the same situation. I see the challenges that my aunt goes through. If my aunt wasn't there to help, I would step in and help my family. For those who don't have anyone, the Dom Care program is a blessing," says Hough, who was also a caregiver for her mother.
"It's rewarding for me because I get to see her growth and to be a part of giving her something that she may not have had in her life," says Hough. "When I say something positive to her, she just lights up and it's a joy to see. My family knows I'm a caring person. Everyone gets along and treats her like one of the family."
For information about becoming Dom Care provider, call 215-765-9000, ext. 5365. For consumer inquiries, call the PCA Helpline at 215-765-9040.
CAPTION: Dolores Luckey, a provider with PCA's Domiciliary (Dom Care) program, prepares a meal.