Direct care workers provide compassion, support in the home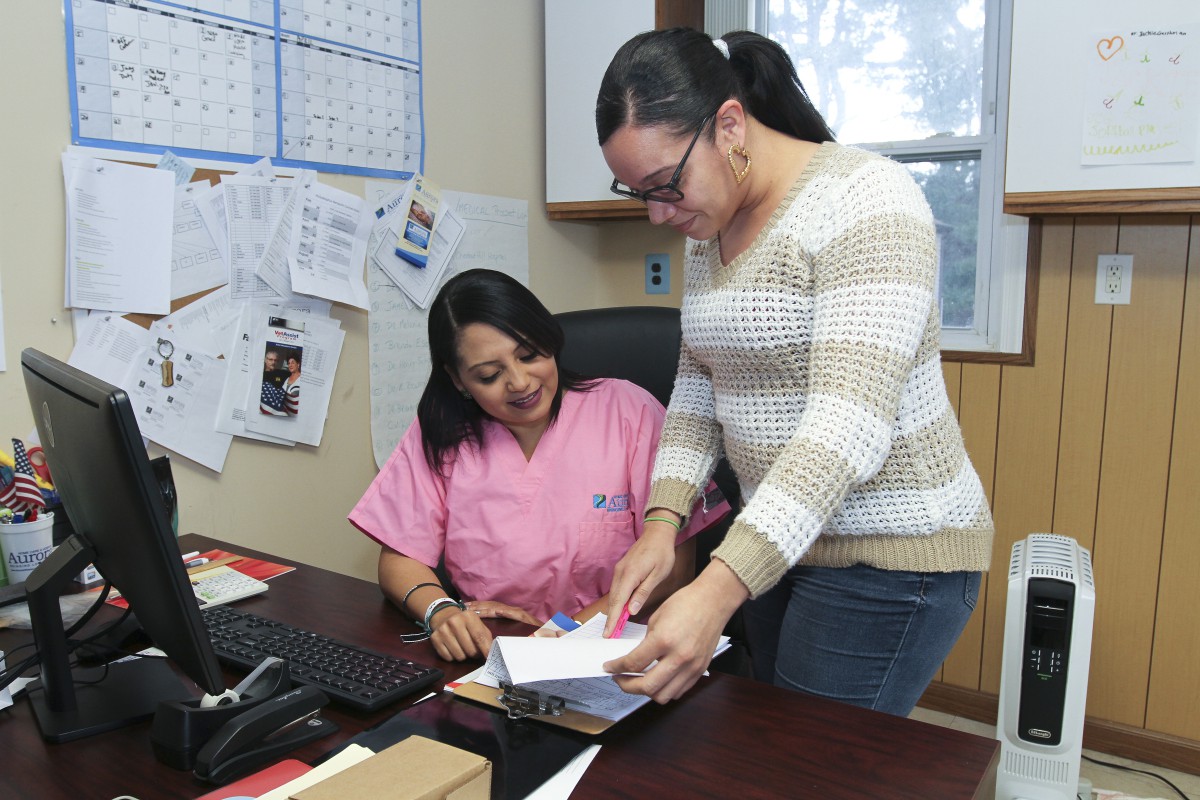 Most older adults want to age at home, in the community, for as long as possible, even if they become frail. On the front lines helping them do so is a growing workforce of people who assist elders with basic self-care tasks they are unable to perform independently.
Depending on their training and skill level, direct care workers may provide a range of services, including meal preparation, light housekeeping, shopping, medication reminders, escorting the person to appointments, laundry and running small errands. They may also provide personal care, such as bathing, dressing, feeding and grooming. Home health aides have more specialized training and are also allowed to do certain health-related tasks, such as taking the client's temperature, checking blood pressure and changing simple dressings. In the course of providing these essential services, direct care workers often become an integral part of their clients' daily lives. Here, three direct care workers share their personal perspectives and experiences related to the job they do and its impact on their lives and on those they care for.
Cheryl Poindexter: A calling
Cheryl Poindexter has been a direct care worker for 19 years, first with Inglis House, a specialized skilled-nursing long-term care community based in Philadelphia; and, for the past 12 years, with the home care agency Granny's Helping Hands-PA Inc. A certified nursing assistant (a home health aide who has passed a state exam), she currently assists six homebound individuals with tasks known as "activities of daily living" (ADLs), ranging from bathing, dressing and feeding to toileting and transferring from bed to wheelchair or toilet – all to "ensure the safety and welfare of my clients," she says.
From her work at Inglis House, which specializes in services to adults with paralysis, Poindexter is expert at using the Hoyer Lift. This assistive device enables a person to be lifted and transferred with minimal effort. She also helps clients with "instrumental activities of daily living" (IADLs) like shopping and picking up prescriptions, doing laundry, and remembering to take medication.
Poindexter regards her profession as a calling and has served thousands of consumers over the years. A past recipient of the Employee of the Month Award from Granny's Helping Hands, Poindexter says her affinity for the work started when she was a teen and helped care for her grandmother when she became frail. She is determined to treat clients as she would her own parents and grandparents and as she would want to be treated. While some clients can be challenging, she says, "I've learned that even the most difficult clients have a soft interior under what may seem like a hard exterior."
Four of Poindexter's regular clients live alone. One is a man who was an only child and never had children of his own. He has outlived his spouse and other family members and friends. Poindexter is his only regular visitor. She helps him with personal care tasks for two hours a day, seven days a week. "He has no one; just me. We have a very close bond," she says.
When Poindexter first began caring for the man, he was living in a dilapidated rooming house. On her own time, she found him an affordable apartment that offered a healthier environment. The client remains grateful to her to this day, she says.
Poindexter also works Sundays for another client. Using the Hoyer Lift, she helps the woman get ready for church and transfers her to a wheelchair so she can be wheeled down the street to attend religious services with her husband.
"My clients express how happy they are that I am there," says Poindexter, who prides herself on being dependable. "I help get them ready and dressed, and I ensure that they have what they need to have an enjoyable day. They know they can truly count on me to help them live an independent and successful life."
Jessica Kemp: Bridging the language barrier
Like Poindexter, Jessica Kemp once cared for her elderly grandmother. In her case, she was hired by her grandmother through Pennsylvania's Personal Assistance Services (PAS). Through PAS, elders self-direct their care by choosing their own care providers instead of a state agency making those decisions for them. Neighbors, friends and even certain family members can be hired as paid caregivers, including the adult children of the elder but not spouses or legal guardians.
For the past several years, Kemp has been a personal care aide employed by Aurora Home Care. She has cared for 15 consumers during that time. The daughter of Puerto Rican immigrants, Kemp speaks Spanish fluently and is often called upon to serve Aurora's Latino clients.
She currently cares for four clients each week. In addition to her regular duties helping with ADLs and IADLs, she says, "I socialize with patients and go with them for walks."
Kemp finds it inspiring to help others at a difficult time in their lives – such as when she received an urgent call from her agency asking if she could go to the home of a client who was experiencing problems. "I found a babysitter for my daughter and went there immediately," she recalls. "A nurse was already there. The woman was having chest pains and difficulty breathing. The nurse called the ambulance. I followed the patient to the hospital on my own. I was there to help translate for her in the emergency room and later, after she was admitted to the hospital overnight. She told me, 'If you weren't with me, I would have been all alone in the emergency room.'"
Kemp notes that whatever the challenge, the way clients greet her is one of the things that makes the work gratifying and heartening. "I love seeing clients' faces light up when I arrive," she says.
Oliveanne (Anne) Pannone: Fostering independence
Oliveanne (Anne) Pannone remembers the time she went to a client's home and smelled gas. The client was unaware of the smell. "I immediately opened all the windows and doors and called the gas company. They sent someone right away," says Pannone, a personal care aide with Bayada Home Health Care. "It turned out to be a massive gas leak. The person from the gas company told me the house could have blown up. He had to shut off the gas until the repair was made; the client had to leave and stay with one of her children until the problem was fixed. After that, the client always called me 'my angel.' 'My angel is here,' she would say when I came."
Pannone has been a Bayada personal care aide since moving to Philadelphia seven years ago. While not every day with clients is so dramatic, she says, "this job has been totally rewarding from Day One. I love it.
"I arrive at my client's home to assist with showering or bathing, light housekeeping, cooking, transferring, whatever they may need. But perhaps the most important thing is to be an effective listener," she says. "Clients need people to listen to them."
Reputable home care and home health agencies provide their workers with formal skills training and information relevant to care responsibilities, both initially and on a continuing basis. Pannone went through intensive training that covered how to perform ADL and IADL tasks, infection control, understanding and following the care plans, causes and effects of medical conditions common to clients, CPR, recognizing elder abuse, and more. Agency staff also provides ongoing supervision and support.
Pannone has cared for hundreds of clients over the years and received Bayada's quarterly National Home Health Hero Award as well as other agency honors. But her greatest reward, she says, comes from experiences like the one when a nonvocal client broke her silence. "I was at the home of a client I had never been to see before," she recalls. "I could tell by observing her and by talking with her family members that she did not speak. Her family told me she had not spoken in a very long time. I proceeded to talk to her and bathe her and to sing snippets of songs like I usually do with clients. Then, when she was sitting and eating, I started singing 'Row, Row, Row Your Boat.' All of the sudden, she said, 'My mother used to sing that to me.' She said it clear as a bell.
"I never give up hope and I tell my clients and their families to never give up hope," Pannone says.
Pannone is also sensitive to clients' frustration at not being able to care for themselves. "I try to let them participate in their own care as much as possible," she says. "For instance, if I am helping clients bathe or shower, I will take the wash cloth and give it to them so they can wash themselves if they are able to. I like to say to clients, 'Every day is the Fourth of July. Every day is Independence Day. I am here to help you, not to render you dependent. You are still an active member of the world.'"
Pannone says it can be difficult to gain a client's trust, especially if the person is not used to help or having a stranger in the house. "It can take a week, a month or even a year until they are comfortable. Trust has to be earned," she says. In her experience, that trust does come, even if slowly. "I may be giving a client a shower or a sponge bath, as I do routinely, and the client says for the first time, 'That feels really good.' Then, at the end of my shift, that client suddenly asks me, 'When are you coming back?'"
For more information on home care, or to request an assessment for services, call the PCA Helpline at 215-765-9040 or Click here to request assistance from PCA online>>
AARP offers guidance on hiring a direct care worker on its website. Go to www.aarp.org and type "hire a care worker" in the search function.
CAPTION: Personal care aide Jessica Kemp (left) consults with supervisor Eva Algarin about a client's care plan at Aurora Home Care, where they are employed. (Photo by Paola Nogueras)