Did Betsy Ross really sew the nation's first flag?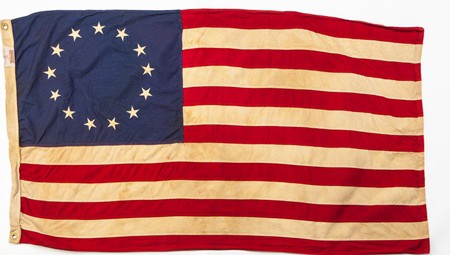 By Dorothy Stanaitis         
As mid-June 1943 approached, our teachers at James Rhodes School in West Philadelphia spent hours having us practice the patriotic songs we'd be singing in our annual Flag Day ceremony. We were already familiar with some of the patriotic songs we would be singing, but this year a new song had been added. We had heard the melody before. It was "Columbia, the Gem of the Ocean," but now we had to learn new words for it.
This new song described the creation of the nation's first flag and was called "Betsy Ross Lived on Arch Street, Near Second."
The new song lyrics included, "George Washington came down to see her to order in a brand new flag."
So that was it. Betsy Ross sewed our very first flag.
"Six white stripes and seven pretty red ones,
Thirteen stars upon a field of blue. It was
The first flag our country ever floated.
Three cheers for the red, white and blue."
We learned that Francis Hopkinson, a member of the Continental Congress from New Jersey and a signer of the Declaration of Independence, had designed the flag, but Betsy Ross had made a special suggestion.
She knew that many of the new flags would be needed and quickly. Hopkinson had placed six-pointed stars on his original design. Ross showed George Washington and his flag committee how, with a few clever folds and just one snip of her scissors, she could make a graceful five-pointed star, saving both time and material. That was something to cheer about.
Our class put a lot of exuberance into singing about those cheers for the red, white and blue. The mothers pushing strollers and several people from the neighborhood who gathered around the playground clapped enthusiastically at the new song, which became part of every Flag Day ceremony thereafter.
Ross had an honored place in our history, and millions of visitors have followed George Washington's example by going to see her house on Second Street over the years. But some historians have questioned the accuracy of the story.
It seems that the only documentation for Ross' patriotic needlework was an 1870 affidavit sworn before the Historical Society of Pennsylvania by her grandson, William Canby; daughter, Clarissa; and a few other family members saying that Ross frequently told the story of how George Washington, who had often asked her to sew the ruffles for his shirts and sat in a pew near hers at church, came along with two other members of the Flag Committee and asked her to sew that first flag.
But although there were receipts for money paid to Ross for sewing ships' "colors" (or flags) for the Pennsylvania State Navy Board, there were none for the Stars and Stripes. Ross' supporters responded that some of her papers were accidentally burned in the 1800s and could have included the necessary receipts, especially since no other seamstress ever came forward with one.
So we are left with the question: Did she or didn't she? I don't think there is any doubt what the answer would be if you happened to ask that question of any of the James Rhodes singers of 1943.
(Photo: iStock)