Cultures unite at Northeast senior center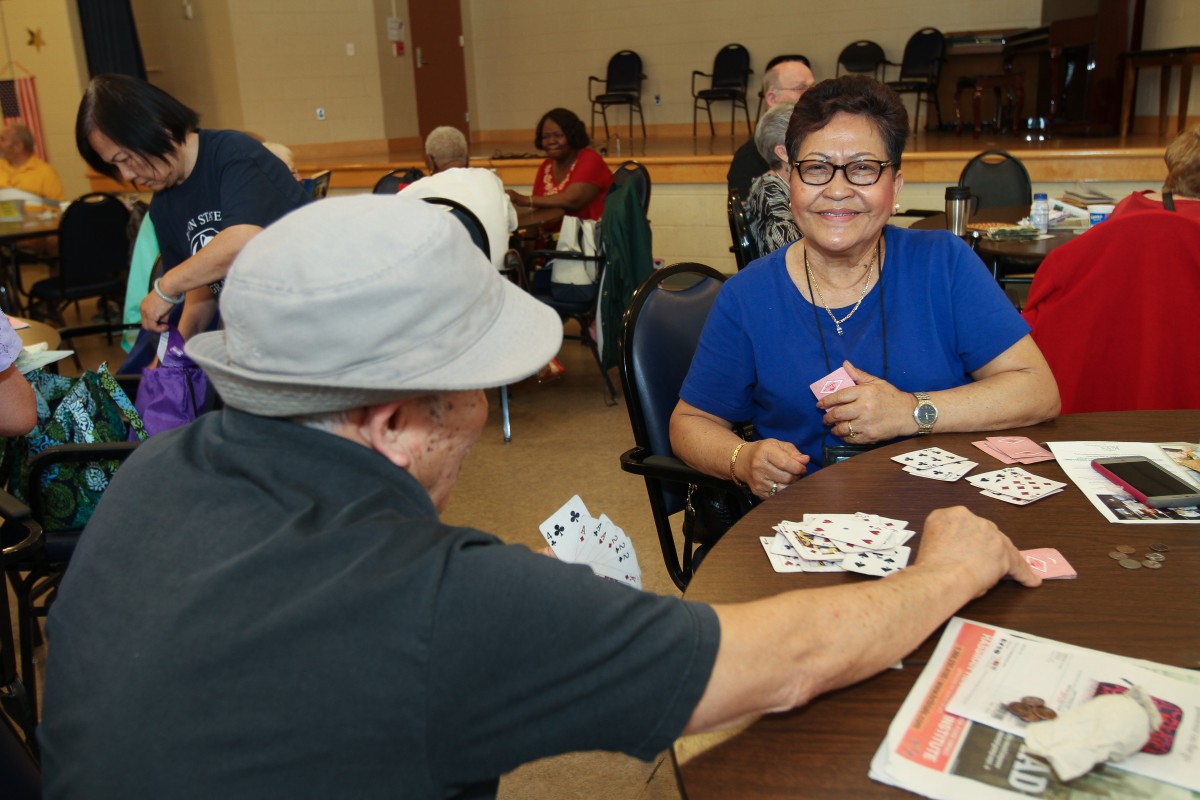 By Marcia Z. Siegal
Angelo Peltekis and Apostolos "Paul" Tolis, both Greek immigrants, sit talking on a bench in the lobby of the Northeast Older Adult Center (NEOAC) at 8101 Bustleton Ave. In the kitchen, Italian-born Giovanna Garofalo is volunteering to help serve lunch. A group of women from Honduras, the Dominican Republic, Colombia and other Latin American countries, as well as the U.S. territory of Puerto Rico, meet in an activity room for crochet lessons conducted in Spanish. With many of its members hailing from foreign lands, the center is reminiscent of a mini-United Nations. The center takes pride in its diversity.
Most NEOAC participants are from the center's Rhawnhurst Northeast Philadelphia neighborhood, which has high proportions of Asian, Eastern European, Latin American, African, South American and Caribbean immigrants. But, as Tolis emphasizes, no matter their background, people come together for shared activities, like billiards, fitness activities and computer classes, and make friends well beyond their ethnic groups.
"This is a nice place for older people," says Tolis, who calls the center his "second home."
After his wife died, Tolis says, he had nobody to talk to. "I was lonely, and someone told me to come here," he says. Along with the friends he has made, the daily hot lunch offered by the center is an attraction for him. "The food is nice, and there's plenty of it," he says.
Rapid-fire Spanish conversation punctuated by laughter and occasional expressive sighs animates a room where the Latino social group shows off the colorful baby blankets they are making. Crochet instructor Juanita Danzot's expertise is evident in the exquisite baby sweater she had made.
"We feel so good to be together," says Nilda Matos, who is still at the beginning stage of her crochet project. "When everybody is here, we have as many as 30 people." "If anybody has a problem, we talk about it," says Danzot.
In addition to social groups, members enjoy bingo, dancing and dominoes at the center. "And especially, we love to dance," says Martha Pineda.
"We have a good time," summarizes Nora Perez. "We don't feel old here."
Born in Puerto Rico, Miriam Morales has resided in the U.S. since childhood. Like many at the center, she joined soon after she retired, at the recommendation of a friend who assured her, "You're going to like it." She still enjoys center activities but, after volunteering in the kitchen for several years, has become a paid kitchen supervisor.
Iraqi native Ahmed Hameed first came to NEOAC to play billiards but subsequently decided to devote some time volunteering in the kitchen to help serve the lunches. "I like to help anyone who needs it," he explains, adding, "This is a good place. Everyone gets along."
Kitchen workers Morales, Hameed and Garofalo enjoy an easy camaraderie in heating and assembling lunches. "I like to get the meals ready," Garofalo says. "I love all the people here. Everyone is so different … I am friends with everybody. If you make contact with your eyes and you listen, you can connect with anyone."
All the center participants come together when lunch is served. Some tend to group themselves by nationality so they can converse in their native language, but few tables are exclusively populated that way.
Tomasa Bucio immigrated to the U.S. from the Philippines six years ago and joined NEOAC at the recommendation of a friend. She sits at one of three dining tables occupied mostly by Filipino immigrants. Bucio is an enthusiastic booster of the center. "There is live dancing, and you meet new people here," she says. She offers to share the homemade Filipino fish and rice dishes she has brought for lunch with others at her table so they can enjoy her native cuisine.
"The people at the center are very nice," she says. "Everybody mingles. They are all my friends."
* * *
Northeast Older Adult Center (NEOAC), 8101 Bustleton Ave., is open weekdays from 8 a.m. to 4 p.m. The center provides lunch; recreational, fitness and cultural activities; benefits counseling; support groups; and transportation assistance. NEOAC is operated by Philadelphia Parks & Recreation and receives funding from Philadelphia Corporation for Aging (PCA). For more information, call the center at 215-685-0576.
CAPTION: Enjoying a game of cards at the Northeast Older Adult Center are Carlomago Castro, left, and Tomasa Elizabeth Bucio, both natives of the Philippines. (Photo by Paola Nogueras)