Connecting Parkinson's caregivers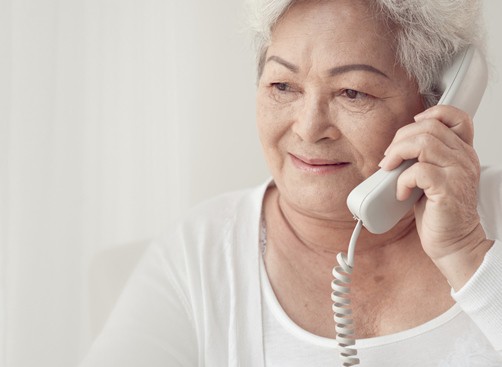 Parkinson's disease (PD) affects as many as one million Americans in the U.S., according to the Mayo Clinic. A chronic progressive movement disorder, the effects of PD can include tremors, rigidity, loss of balance and coordination, difficulty swallowing, and dementia. On average, individuals live between 10 to 20 years after the diagnosis. For both patients and caregivers, it's a long journey.
While each Parkinson's disease (PD) patient is unique in how the disease affects him or her, their caregivers share many common issues and stresses, according to Patty Davis, senior social worker at the Supportive Older Women's Network (SOWN). SOWN recently developed a Parkinson's Care Partners Support Group, a pilot program that uses a telephone conference call format to offer participants the opportunity to share experiences, resource information and coping mechanisms, and connect with other caregivers (or "care partners" as SOWN also calls them).
"Caregivers often feel isolated," says Davis. "Typically they're not getting out as much as they're used to, and when they do, it's usually centered on their loved one's needs – such as doctors' or physical therapy appointments." The SOWN program helps relieve that isolation and the telephone format is convenient, Davis says. "Members don't have to go anywhere or be pressured to get ready or worry. They can be at work or in their pajamas at home and still be part of the group. They can also be anonymous; and they don't have to talk about their loved one in front of him or her." Sessions are held once a week for an hour; group members are asked to commit to eight weeks. Groups include both men and women.
Group member Jean Bradley has devoted herself to caring for her husband, Greg, since he was diagnosed with PD seven years ago. Bradley says the group includes caregivers who have been caring for a loved one 15 to 20 years, as well as those new to caregiving and others like her in the middle in terms of experience. She is learning from those longer-term caregivers what she might expect down the road. "I sit with a notepad and pen and jot down their tips and put them in a folder because I may need the information someday," she says.     Many members, like Bradley, have chosen to continue after the eight-week sessions are completed. "We look forward to talking to each other," says Bradley. "We've become very close."
Caregiving can be overwhelming," Davis says. "The more the caregiver feels supported, the better he or she can take care of the care partner, and the better it is for both of them."  

SOWN developed the Parkinson's Care Partners Support Group as a pilot program, with funding from the Parkinson's Council, based in Bala Cynwyd, and Penn Medicine Parkinson's Disease and Movement Disorders Center with the support of the George C. Beyer P.D. Caregiver Support Fund.
For information, including joining a Parkinson's Care Partners Support Group, call Patty Davis at 215-487-3000, ext. 25; e-mail  pattydavis@sown.org or visit www.sown.org and click on "How Can We Help."
For information about Parkinson's disease and resources for families, contact the Parkinson Council by phone at 610-668-4292; e-mail info@parkinsoncouncil.org; or visit the website: http://theparkinsoncouncil.org.
(Names of the support group participant and her spouse in this story have been changed to protect confidentiality.)