Celebrating LGBT Pride Month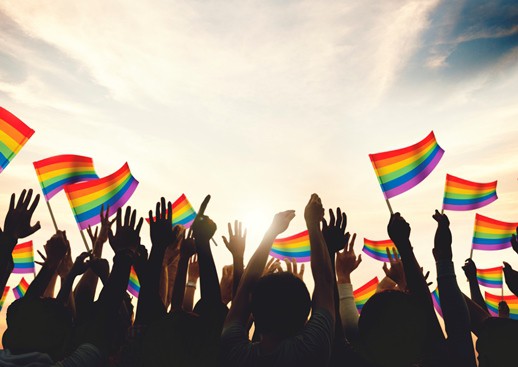 In June, we celebrate Lesbian, Gay, Bisexual and Transgender (LGBT) Pride Month – and our LGBT older adults, who have so much to offer the community.
The Stonewall riots, which took place in June 1969, were a tipping point in LGBT history and set the stage for the creation of LGBT Pride Month. The Stonewall Inn in New York City's Greenwich Village was one of the city's few gay bars or nightclubs in the 1960s. In the dawn hours of June 28, 1969, police raided the bar, triggering protests among members of the LGBT community. The riots that erupted in New York City and beyond gave voice to the long-standing anger and disenchantment felt by members of the gay community, who had frequently been subjected to discriminatory, hateful and even violent treatment.
The purpose of the commemorative month is to recognize the impact that LGBT individuals have had on history locally, nationally and internationally. Locally, we have seniors who fought on the front lines at Stonewall and in Philadelphia-based protests and marches that led up to Stonewall. Our gay pioneers are among us still.
The power of pride
"Pride" has lent its name to various LGBT-themed organizations, including a London-based library, as well as books, periodicals and a cable TV station. The last Sunday in June was initially celebrated as Gay Pride Day; however, across the nation, the day soon grew into a month-long series of events. Today, LGBT Pride Month celebrations include parades, picnics, parties, workshops, symposia concerts and other events that attract millions of participants around the world. Common symbols of LGBT pride are the rainbow flag and pink triangle.
Although same-sex marriages are now legal in the United States and more people are accepting of LGBT individuals, older LGBT adults can still feel very isolated due to the stigma and discrimination that have been part of their history. While it is relatively common and acceptable for LGBT youth to "come out" and talk openly about their sexuality and gender identity, older adults may feel isolated, staying "in the closet" and not socializing with other LGBT seniors because they do not know where to meet them. Senior centers often do not have programs geared toward LGBT older adults, and many senior housing facilities and home care agencies are not trained in providing welcoming and inclusive services for LGBT constituents.
The good news is that this situation is changing. Philadelphia Corporation for Aging (PCA) is leading the change locally by providing training for the aging network, instituting LGBT-friendly activities at one of the senior centers it administers, and covering LGBT issues and concerns in publications like Milestones. Our LGBT community celebrates senior centers like PCA's Southwest Senior Center, KleinLife: Northeast Philadelphia and Center at Journey's Way that have social gatherings, lunches and support groups that are LGBT-inclusive. We are also grateful to the William Way LGBT Community Center, which offers regular LGBT programming for seniors, and Always Best Care, a home health care agency that recently participated in SAGECare training, to help staff members understand the unique needs of LGBT people and their families.
An invisible population
All professionals who provide services to older adults work with LGBT individuals, even if they do not realize it. Likewise, all seniors who attend senior centers or share housing communities do so with their LGBT peers. Recent data from the national organization Services and Advocacy for GLBT Elders (SAGE) indicates that nearly 3 million LGBT adults over 50 live in the United States, and that number is expected to double by 2030.
Having been brought up in a society that privileges heterosexuality, we need to recognize that our bias is not automatically lost because we are aging and/or working in aging services. Knowing about someone's sexual orientation and gender identity doesn't mean you have to know about that person's sex life. Sexuality, including sexual orientation and gender identity, is an integral part of everyone's identity, LGBT or not. Being able to discuss one's sexuality with providers and friends increases the availability of social support, which is crucial to mental health and psychological wellbeing, and successful aging overall. LGBT people benefit from being able to share their lives with and receive support from family, friends and acquaintances, as do we all.
So, for LGBT Pride Month, you're invited to stand with the LGBT community, young and old, in the struggle to remove barriers and prejudice as we celebrate our diversity and embrace all people. Happy Pride Month, everyone!
For information on local LGBT Pride Month festivities, check out the following resources:
(Article by Terri Clark)
CAPTION: The rainbow flag has become a symbol of lesbian, gay, bisexual and transgender pride. (iStock)
(Article by Terri Clark)