At Southwest Senior Center, everyone is welcome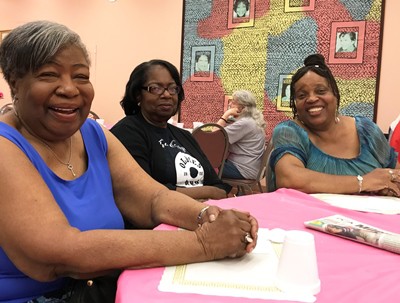 By Michael Hanisco
Just inside the entrance of Southwest Senior Center, 6916 Elmwood Ave., sits a large blackboard plastered with bright posters and stickers. The first poster features a picture of Earth from outer space and is captioned with a simple, provocative tagline: "I don't see any borders. Do you?" "No one is truly free while others are oppressed," another declares. A third plainly states, "Immigration is the American Way." While new images have been added to the collection over time, the unifying message has remained the same: Everyone is welcome.
"We try to encourage inclusion,"  said center director Paulette Cunningham "Every religion, sexual orientation, and culture is welcome here."
The theme of inclusion is reflected in the center's membership and programming. Southwest Senior Center serves a diverse community, with seniors representing the local African-American, Caribbean, South American and Asian populations.
The center is also home to an LGBT support group, which was started by Linda Marucci, center counselor. The group is primarily made up of members who have LGBT adult children and/or grandchildren. They meet weekly to discuss concerns, challenges and ways to change outdated perceptions of LGBT people.
Vernice Bond has two very close friends in the LGBT community. She attends the support group at the center every Wednesday along with a core group of about six others. She says she knows of at least one familial relationship that was saved as a direct result of the group discussions. The group has been so successful that it has been invited to other senior centers in the city as a model for starting similar groups.
A large number of women at Southwest Senior Center are involved in the Supportive Older Women's Network (SOWN), which meets once a week. Every meeting begins with each member expressing how she's feeling that day before branching into a group discussion on a pre-determined topic. What is said in the group stays in the group, a rule that helps to build a feeling of trust.
"A lot of seniors, especially older women, think they're the only ones going through what they're going through," said Barbara Morris, who became active in SOWN almost immediately after her first visit to the center three years ago. "But you're not alone. We're all in this together."
Cunningham wants to challenge outdated perceptions of what a senior center can be. Baby boomers want something different from past generations, she said. Computer classes at the center, which run September through June, are always well attended. The center also has an active drama club, a busy gym, a choir and a gardening club. The gardeners grow vegetables on-site and host nutritional cooking demonstrations.
Leona Jones said she had always been a plant person but never thought she could grow vegetables in the city until she learned how at Southwest Senior Center. At 70, she is a daily visitor to the center and now grows tomatoes, peppers and squash on her deck at home.
Lorraine Overton first started coming to Southwest Senior Center to work out after retiring. Though she still works out three times a week, she has gotten much more involved in the center and with other members over the past 19 years. She now enjoys meeting new people through art classes and choir.
"All of [the programming] creates fellowship and togetherness," Overton said.
Indeed, the theme of togetherness is on full display at Southwest Senior Center, and not just on the blackboard.
"There is always a helping hand and a caring voice here," said Barbara Morris. "It's not [just] like a family. It is a family."
Southwest Senior Center is open Monday to Friday,  from 8 a.m. to 4 p.m. For more information, click here or call  215-937-1880. In addition to being funded by Philadelphia Corporation for Aging, Southwest Senior Center is also managed by the agency.