Alzheimer's caregiving offers rewards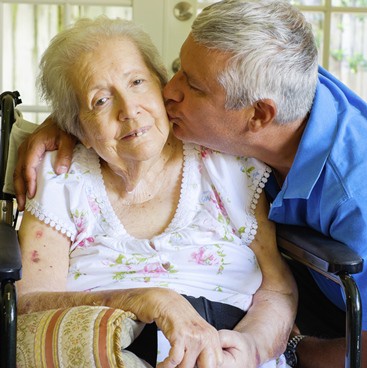 About 5.5 million Americans are living with Alzheimer's disease, the most common form of dementia, according to the Alzheimer's Association. The bulk of their care – 83 percent – falls on unpaid family members.
A new study conducted by the University of Michigan, called the National Poll on Healthy Aging, surveyed the experiences of dementia caregivers ages 50 to 80. Most – 62 percent – were women, and 60 percent were caring for a parent. The others were caring for a spouse, another relative or a friend. The survey results illustrate the ups and downs of caring for ailing family members.
It's no secret that family caregivers carry a heavy physical and emotional burden, but the survey indicated some surprising benefits of caregiving. "A striking finding was that 45 percent of caregivers described their experience as 'very rewarding, '" said Erica Solway of the University of Michigan's Institute for Healthcare Policy and Innovation, "while just 19 percent called it 'very stressful. '"
While dementia caregiving has positive aspects, that fact should not overshadow the burdens families face. Of the survey respondents, 78 percent said caregiving was at least "somewhat" stressful, and more than a fourth said they'd neglected their own health.
In addition, caregivers often say they have little personal time. Of those surveyed, two-thirds said their caregiving responsibilities interfered with their work, everyday tasks or ability to take care of themselves.
It is recommended that caregivers periodically ask a trusted relative or friend to take over for the day, or at least for a few hours. If there's no one who can step in, professional/paid respite care might be an option. Caregivers also can look to resources in their community and online. Those include temporary or regular in-home care, adult day centers – where people with dementia can go for supervised activities – and short-term stays in an assisted-living facility when a caregiver needs to travel or have a medical procedure.
While getting help and taking breaks are critical for caregivers' health, only 27 percent of those surveyed said they'd used such resources.
Families often are unaware that help is out there, and by the time caregivers need assistance, they might be so overwhelmed that they feel they don't have the time – or energy – to access support. It is suggested that families start planning for such needs soon after a loved one is diagnosed with dementia, before the caregiving becomes too intense.
Source: HealthDay News
Help for caregivers
Caregivers can call the PCA Helpline at 215-765-9040 or go to pcaCares.org to search for caregiving resources. In addition, PCA's Caregiver Support Program offers tips; support groups; links to caregiving resources; and for those who qualify financially, reimbursement for caregiving supplies and respite care.
CAPTION:  The bulk of Alzheimer's caregiving falls on unpaid family members.  (ThinkStock)                                                     ###